Sheep herding 4-5th of Ocktober 2003
with Hanna Eriksson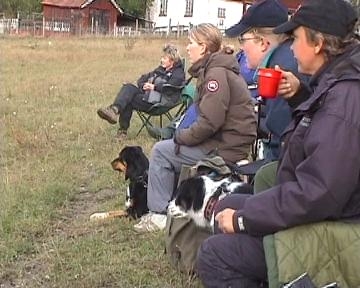 Eager participaters..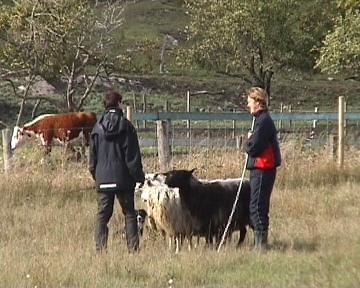 Anna and El Merino's Sami Slurfi "Maja" (left) and Hanna is talking about "how to do it"....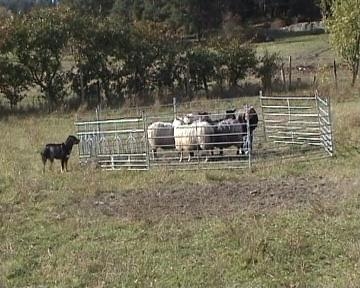 El Merino's Panda is studying the objects them selfs..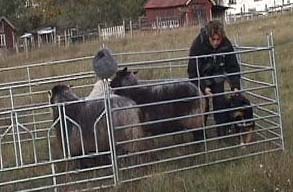 Basic training should be done inside the small pen due to Hanna's
training model.
Here she shows, with Panda, how to work in a smooth way to teach
the dog to come around the stock calmly and relaxed inside the pen.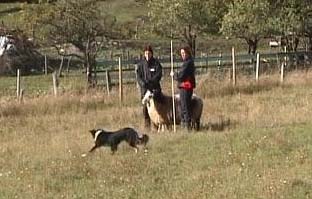 Hanna shows Anna how to work wirh "quarters" and "10 minutes" to calm down such a little "racer-machine" like 'Maja'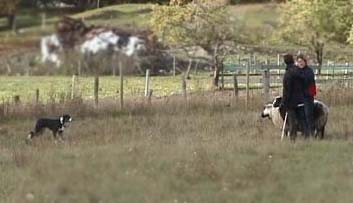 Maja wonder if there is talking or working to be done...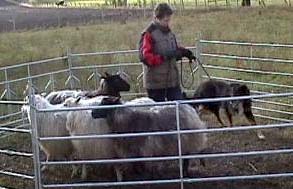 Ewa with Bluff who made come back in the sheep collar after almost nästan 4 years since the first try.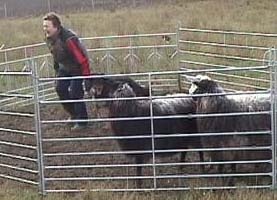 Whet the appetite!
"You can never mean this is permitted..?!?"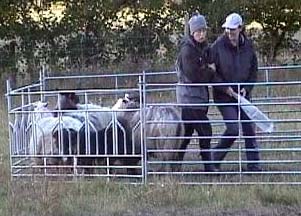 Pastor thought it was really nice to come very close up behind the sheep..!
Hanna guides Eva:
"Take it easy and just let him work!"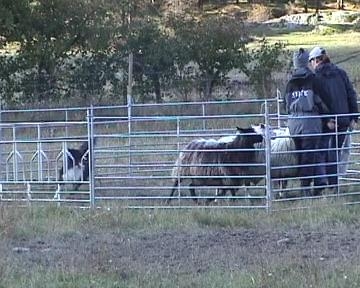 .. and soon Pastor felt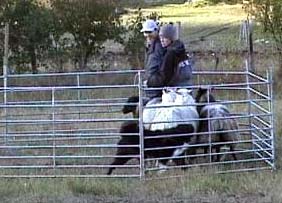 that he more and more was like sucked in behind the ewes....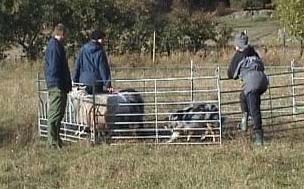 Tove and Peak is warming up inside the small pen.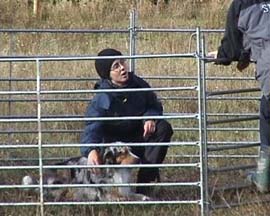 Tove is surprised: "I never thought it would work out this good!!"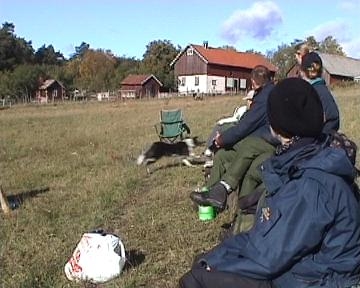 Here is Charli just sent, by Blomman, for an long fetch..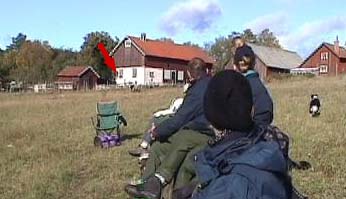 The stock is below the red arrow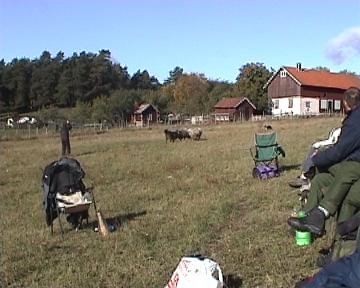 ...and there is Blomman! Well, the fetch was not to bad..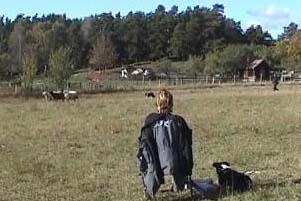 Blomman with Charli training the crossdrive.
Instructor Hanna with her BC Viggo,
following the turn-out using hawk eyes...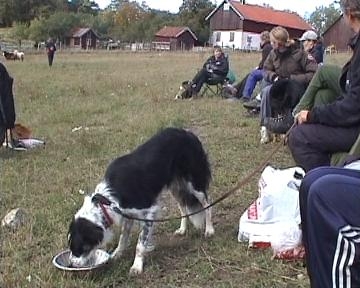 Quick lunch ..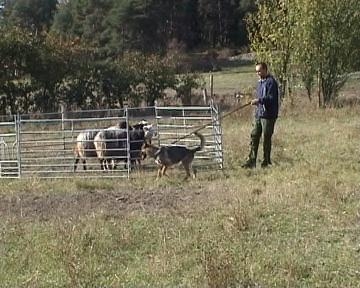 Now, what is this?
Answer:
Thomas (SASK's vice chairman.) has been bitten and just have to try a little..but poor man, no aussie of his own yet...!

Later on the same day... Ewa, Bluff and Hanna making plans...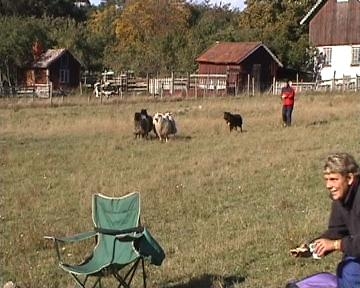 "Sneaking-Bluff" is driving real nice!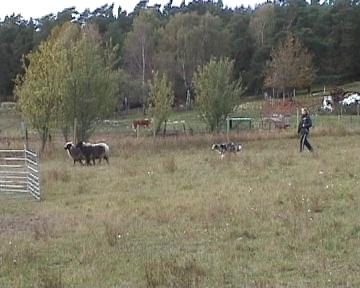 Peak with Tove driving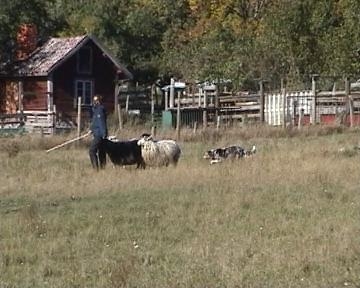 Tove and Peak was probably the ones theat made the greates progress duting this week end...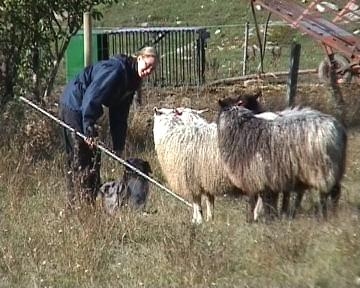 ..and this is how happy Tove looked aftrwards!!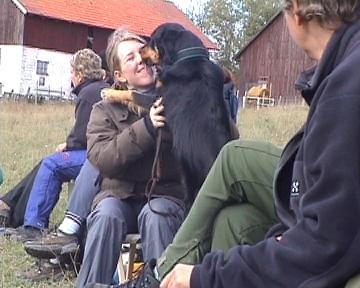 Panda loves her Camilla most of all in the hole world, even though Camilla sometimes give a pat to a numskull!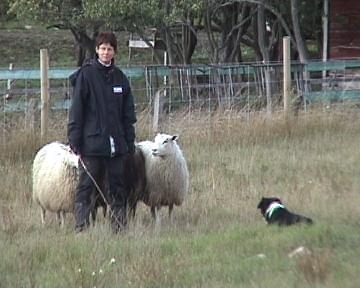 How many quarters is it on a "Maja-hour"..?
(Does Anna looks dizzy..?)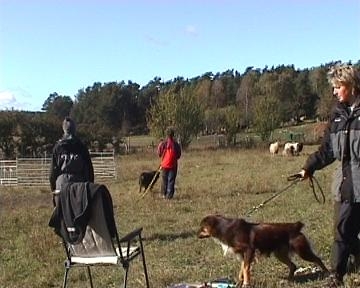 Jealous Wade in lead, wasn't allowed to work this time...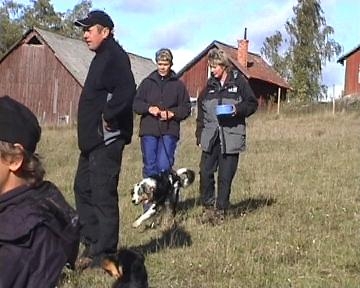 Young man on visit in the pasture: Stjernborgens Elvis, 6months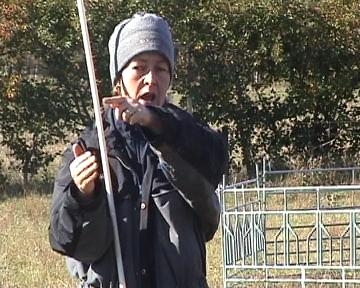 Well, what was it now Hanna said that was so very important and we had to think about, and not forget....??
END